Experience
The Incredible Ride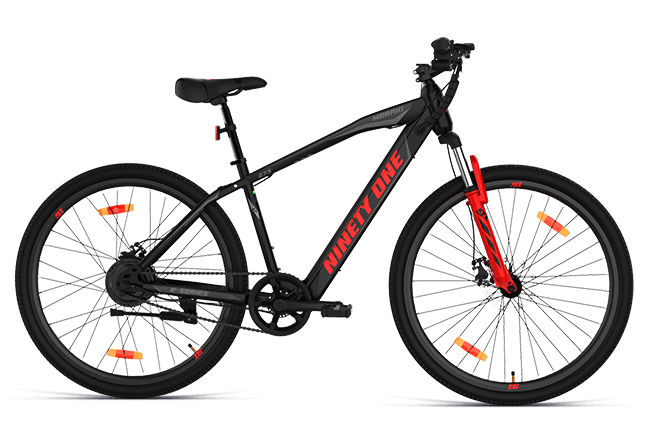 Explore
Entire Meraki Range
Discover
The Meraki Difference
In this mode, you can take advantage of combined human and electric power. Once you turn on this mode via the on/off button on the handlebars, the motor will gently provide electric power as you pedal. It's an amazing feeling to use pedal-assist mode, as it makes cycling effortless, flattens out the hills, and frees you to just enjoy yourself and the scenery.
Ride it like a scooter
This mode of operation allows you to sit back and take a break, as you let the motor do the work. To use "electric only" mode, simply twist the throttle located on the right handlebar and you'll feel the motor kick in and propel you forward. Keep the throttle turned to continue along or let go if you're ready to start pedaling or wish to come to a stop. Please note that due to Indian regulations, the top speed in electric-only mode is limited to 25 km/hr.
This mode drains your battery the fastest.
Your good old cycle
Pedal effortlessy like a normal cycle. In this mode, E-bike can be used as a normal cycle when: you want to just pedal, the power is off, the battery is discharged or in a rare event of any break down in the electronic system of the bike.
Just glide along
Cruise Control is considered a type of throttle and is limited to a maximum controllable speed of 6 km/hr and will keep riding and that speed. You can use this while rinding or to walk along with cycle without need to push it.
Pedal Assist

Throttle Mode

Pedal Mode

Cruise Mode
Design & Crafted
Ride for Every Need
Adventure Trails
Weekend ride to your favorite scenic spot
Commuting
A stylish ride to office and back
Casual Riding
For daily errands or a fun ride with friends
Design and certified for global standards
Design Excellence
Sleek Geometry
Height: 5'2"-6'2"
Payload : 110 kg
Enhanced Safety
International Certification
UN 38.3, IEC 62133-2
Dust & Rain Proof
IP65 rating
Safe to ride in rain or shine
UV rated cables
Best in class
Rediscover Your Soul
Know your bike in & out
Specifications
Electrical

Battery Pack

Panasonic, 6.3 Ah, 2000 discharge cycles, 2 year warranty

Range

18-35 km*

Brake Cut off

E-brakes, with automatic brake cut off for safety

Motor

250 Watt, IP65 (Water proof)

Electronic Lock

Key lock switch, bike can't be turned on without key

Display

Rubber button, IP66, unique display

Controller

IP65 controller, SVPWM

Driving Mode

Pedal, Pedal Assist, Cruise, Throttle

*Under test conditions, use in PAS mode for better range

Mechanical

Charger Pin

Near head tube, Easy to access

Downtube

Trapezoidal

Wheel Size

27.5"

Battery Case

IP65 , Aluminium, Serviceable, non removable

Weight

22 kg

Brakes

160mm front and 160mm rear disc

Frame Type

Unisex, Steel

Crank

Alloy Crank, 42T X 170

Suspension Fork

80mm travel

Frame

Ultra High Tensile Steel, Robotic Tig Welding

Tyre

27.5 X 2.1 inch, 30 TPI high quality rubber compound

Tube

High air retention, low aging butyl tube
Feel the love
Voice Of Our Riders
Voice of Our Riders
"Amazing bike for an active lifestyle"

Vijay Malhotra,

Mumbai

'Meraki' - the most innovative Ebike.

Today I did a test ride of Meraki Ninety One electric bicycle by AlphaVector at Imperial Cycles. 'Meraki' means doing something with creativity and soul. This MTB ebike justifies its name and built to take on the tough roads. Amazing to see Indian brands are comming up with innovative active lifestyle products.Try for yourself to feel it!

"Definitely the best e-bike in the market"

Sagar Rathod,

Mumbai

This bike is AWESOME.

After many months of research on everything I could find on a wide selection of ebikes I settled on the Meraki ebike from Ninety One. It has some very important features like long-range battery, excellent quality workmanship with strong and sturdy components. The 91 Team have gone the extra mile in making certain sure that bike quality is great and built for Indian roads. Now i can go longer distance on bike and interestingly, I am still getting plenty of exercise on the ebike.

"Meraki is reliable, cost effective and inspires confidence"

Kriti Sharma,

Chennai

A Dream E bike

Riding the Meraki feels really light and breezy and inspires confidence. This cycle is great for fitness as well as for daily commuting. Meraki is reliable, cost effective and owing one is a hassle free ownership experience.
View All
Voice of our Riders