Kids Bicycle
The Best Kids Bicycles in India
Are you satisfied?

56
Already Liked

A kid's bike has to have more than just great features. It also has to be the best in safety. And it doesn't stop there. It also must look super amazing so that your kid will enjoy riding it and feel proud to be the bike's owner. That's a lot stacked up and a whole lot of expectations on a kid's bicycle.
We have put together a list of bicycles primarily meant for the young rider with all these features and more. Let's check each one of these awesome rides.
Superman and Batman
It can't get better than this - a kid's bicycle with not just great features but even perfect colours with waterproof decals and more. It is sure to make your child feel like a superhero with the ideal blend of red and blue and even a colour coordinated seat and brake cable wire for the Superman model. In its stunning, monochrome frame in white and contrast black tyres and handlebars, the Batman model has a superior colour coordinated saddle and batman decals and graphics, making it a stunner.

Safety features are at the core of these bicycles. The bike sports a full chainguard to ensure security to the young rider. The paintwork on the bicycle's body is non-toxic, keeping in mind the safety of your child. Along with the bike is a food-grade plastic water sipper which neatly fits into its bottle cage conveniently placed behind the seat. The Batman and Superman are built with rigid and secure V brakes, heavy-duty safety side supports, durable and robust frames made from high-tensile steel. The hi-traction wide tires with rust-free alloy rims increase safety. It has a quick-release clip for seat height adjustment to ensure comfort and perfect sizing.

These unisex 20-inch wheels are perfect for your young kid between the ages of 6 8 and sport training wheels that can be detached when they're ready to balance on their own. They are the perfect blend of superior specifications; safety is given top priority and great looks that your kid is sure to feel proud of. Let your adventurous kid now experience and feel super with the flying crusader and the masked superhero with these two super excellent bikes.
The next on our list of best kids bikes is the Snow Angel.
Snow Angel
This one is for the young child who loves everything cute, pretty, charming, and stylish. This model comes in two colour combinations: pink-blue and black-pink, which uses non-toxic paint to ensure your precious one is safe. Both variants sport a super cute-looking snow guard functionally designed to keep your little one safe. Water-resistant decals and colour-coordinated seats and wires, making it a picture-perfect vision of a bicycle that screams 'Cute.'

This bicycle comes with two sturdy removable training wheels that the young child requires in their initial riding days. It is engineered from hi-tensile steel to be strong and sturdy; it also has a quick response and safe V-brakes. The Snow Angel has hi-traction wide tires with rust-free alloy rims for increased safety. It has a quick-release clip for seat height adjustment to ensure comfort and perfect sizing. Gift your child the experience of feeling angelic while riding the Snow Angel.
Very popular and next on the list is the Rover.
Rover
A trendy model especially for our young riders, the Rover comes in 2 sizes. The 16-inch wheel is perfect for your tiny tot between the ages of 4 to 6, and you can choose from two delightful and attractive colour options blue-yellow and black-green. The 20-inch size for a 6 to 8-year-old kid gives you the option of two super good-looking and striking black-yellow and black-blue colour options.

The Rover boasts of safety features, including non-toxic paint, a full chainguard for the 16-inch model, and a quick-release clip to adjust the seat height to ensure the best fit for a growing child and hi traction2.4' wide tyres and secure V-brakes. This stylish bike comes with a durable carbon steel frame and double wall rust-free alloy.
Let your kid have a thrilling ride with a 100% safe and comfortable bicycle with superior features that every parent looks for!
To get more information on these top-ranking and safe bicycles, visit Ninety One Online Store or visit one of the 850+ retailers across India; take one home and gift your child their own set of wheels
Related Blogs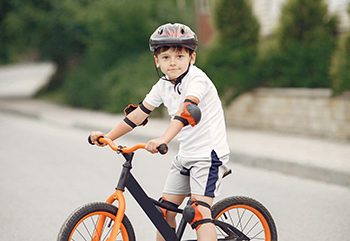 Cycling Tips
Safety Tips for Kids Cycling | Infographic
As the kids are prone to small accidents, it is important to keep our kids safe while riding a bicycle. So, here are some important safety tips for kids while going out for cycling.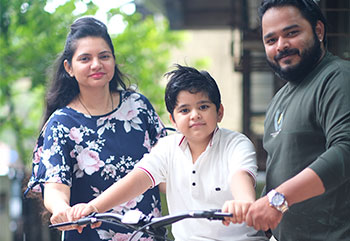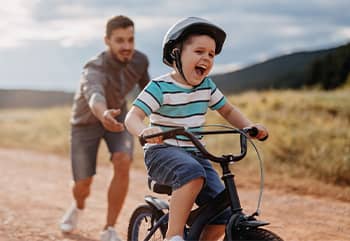 Kids Bicycle
How to Teach A Kid to Cycle
We\'ve got you covered when it comes to teaching a young child to cycle by following our expert recommendations and in a few easy steps.
Add Review & Comment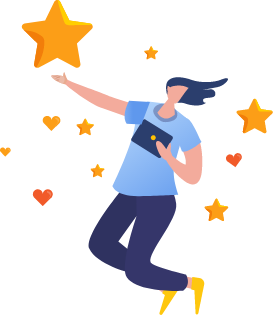 Thank you for Review