Kids Bicycle
Which Are The Best Kids' Cycles By 91 Cycles?
Are you satisfied?

50
Already Liked

We've all grown up with our bicycles; they are an integral part of our childhood and offer many precious memories. One of the earliest memories is of our parents or older siblings holding our tiny seats and guiding us down the road as we learned to peddle. Graduating from a tricycle to a bicycle with side wheels was a pivotal step in our growth, and of course, furthering our practice to riding without the side wheels. Falling on the rough roads, scratching our knees and palms, riding down treacherous and wet paths, going on adventures and thrilling rides with our friends, our childhoods are indeed full of loving memories. What's best, we share those memories with our parents and friends and of course our beloved bicycles.
Cycling is an important physical activity that gives a child the freedom and independence to engage their motor skills in a fun manner. It is a form of exercise that provides them with a positive mental attitude and makes them alert and aware of their surroundings. In the days of increasing screen time and children shifting from outdoors to indoors, especially on mobiles and television, cycling comes as a respite. Cycling engages a child's physical body, exercises their mind, and offers an opportunity to socialise. Cycling also doesn't seem as exhausting as other activities and is therefore loved and cherished amongst children.

Benefits of cycling for kids:
Cycling is known to increase metabolic rates. It improves the immune system and engages almost all body parts, making a child stronger physically.
It strengthens our nervous system. A positive and alert mind refreshes one's brain and fuels it to work better on other activities as well.
Cycling nurtures a child's sense of freedom; it is an exciting way to get around the locality and familiarise themselves with the area. It makes them vigilant and observant of their surroundings.
Parents often give children the task of buying grocery items from the local market, often executed by cycling. This induces a sense of responsibility in children, preparing them for adulthood.
Cycling as a hobby, if habituated, will serve children well when they transition into adulthood.
Cycling is a fun activity to bond over. Parents and children can ride cycles together and explore exciting places.
Cycling, like most other physical activities, is a great stress buster.
Safety, bicycle build, height, and usage are some of the key points every parent must consider before purchasing a bike for their children. Fortunately, at Ninety One Bicycles, all these checkpoints are already taken care of:
All the bicycles on the platform mention the sizing of the bike. It is a crucial area for all parents for their fast-growing children. The bicycle height must correspond with the child's growing height. Most bicycles on the platform come with a simple clip to adjust the seat and sizing.
The bicycle built is vital. The body must be sturdy enough to take any falls while maintaining stability. Ninety One branded kids bikes possess a frame made from high-tensile steel, heavy-duty safety side supports, and rigid and secure V brakes. This makes the bicycle perfect for a child's vigorous use.
With its non-toxic paint and full chain guard, the bicycle offers even more safety and protection for the child.

Bestselling bicycles for kids on Our platform:
SNOW ANGEL 20T: This girl's cycle is available in two gorgeous colours: pink, white, and sea green. Both the colours are exuberant and give the bicycle a cool and fresh look. The bike's name is justified as it is as sweet as a snow angel. The bicycle comes with unique self-adhesive decals and is a leader in safety with its Carbon Hi-Tensile Steel. The tires offer high traction, while the rims are wide and made of rust-free alloy. This bicycle is cute, stylish, and adorable. It is indeed every girl's dream bicycle.
FIGO 20T: This is the perfect cycle for boys and comes in two beautiful colours: black turquoise and gray yellow. The ideal partner for a thrilling adventure, this bicycle boasts life-long durability of carbon steel, rapid and robust power V brakes, double-wall rust-free alloy rims, and zero shock suspension. These are only a few features of this power-packed bicycle. The striking colours and stylish appearance only amplify the beauty of this bicycle.
JUSTICE LEAGUE BATMAN 20T YELLOW: A super stylish bike with a cool superhero theme. Batman may have his batmobile as a ride, but this bicycle, with its futuristic looks, the durable and robust frame will become your child's go-to ride. It boasts a trendy yellow colour and comes with a food-grade plastic bottle sipper. The seat and height adjustment are only a simple, quick-release clip away. The bicycle has signature high traction wheels, double wall rust-free alloy rims, and water transferable decals. This is the perfect piece for any superhero lover out there!

Apart from a sturdy and safe bicycle, it is important to invest in safety accessories as well. Helmets and knee pads only give the child a complete cycling experience while ensuring their welfare and protection. It is also advisable to invest in a gel saddle cover to offer optimum comfort for long rides.
Ninety-One Bicycles are perfect for all children, and they are safe and fun to ride on. Most importantly, they cater to all the requirements a parent might have from their children's cycles. Nurturing every child's need to explore and grow, these bicycles are perfect for parks, gravelly paths, and even roads. Lastly, with their solid and durable build, the Ninety One Bicycles are perfect for creating those precious memories we all cherish as grown-ups. All bicycles at Ninety-one Bicycles arrive with free shipping and a toolkit consisting of Allen Key and Spanner.
kids
cycles
children's cycles
Related Blogs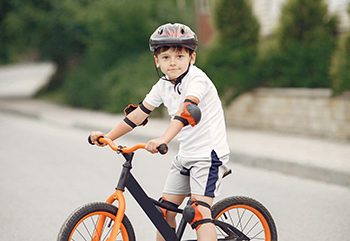 Cycling Tips
Safety Tips for Kids Cycling | Infographic
As the kids are prone to small accidents, it is important to keep our kids safe while riding a bicycle. So, here are some important safety tips for kids while going out for cycling.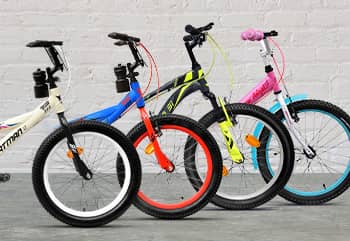 Kids Bicycle
The Best Kids Bicycles in India
Excellent feedback, impressive specs and top-notch safety features have put these bikes on the Best Kid's bikes list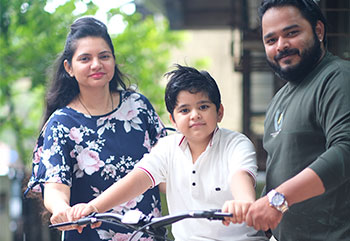 Add Review & Comment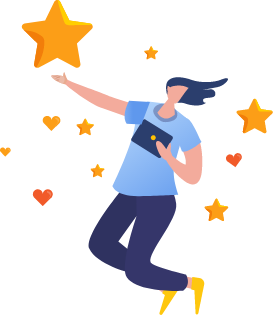 Thank you for Review