Kids Bicycle
Top Bicycle Accessories for Kids
Are you satisfied?

48
Already Liked

So you decided to gift a bicycle to your young child? Then you should also decide to add bicycle accessories because either doing so would add more excitement & fun in the process. A few bicycle accessories thrown in maybe just be the encouragement they need.
There are tons of types of accessories available for bicycles. The accessories are all about safety and convenience. But with kid's bicycle accessories, they could be about safety and great-to-have, but they all have to be highly attractive. After all, they have to appeal to the most tough-to-please customer a young kid.
We've put together a few of the most popular kid bike accessories that you can explore to add to their riding pleasure, and some of them are about the rider's safety.

1) Helmet
Safety first, no doubt, but the helmet has to look awesome too. Many kids' helmets are available in bright and kid-appealing colours and may also sport their favourite characters. Choose one with multiple vents so that even in warmer climates, wearing it feels cool.
2) Spoke Beads
Spoke beads are sure to thrill most young kids. You can buy packs of these most attractively designed beads and have your child decorate the spokes of their bicycle. The choice in designs and colours is fabulous and can make any bike a star attraction.
3) Spoke Reflectors
The colourful spoke reflectors can jazz up a plain-looking cycle with their luminescent and highlighting properties. And best of all, the reflectors are safety devices to make sure that the cycle is visible in the dark environment. These reflectors are a sure-shot winner with most young boys.
4) Bike Bells
Bike bells for a kid's bicycle come in interesting shapes, attractive colours, and different choices of sounds. Choose from a traditional bugle design to a ladybird-shaped bell amongst a plethora of exciting designs.

5) Streamers for Handle ends
A favourite and a must-have addition to the handle end that most little girls may enjoy sporting. Colourful and a visual eye-catcher, it is a definite add-on to make any little girl feel like a diva.
6) Cable Lock Wire
A Cable Lock Wire is a great 'safety from theft' accessory and gives your child a lesson in being responsible for keeping their bike safe. Look out for coloured ones that would appeal to kids. And ones with a keyless number combination are sure to thrill the young rider.
7) The Bottle Cage and the Bottle
Add a cage with a bottle and make sure it matches the colour of the bicycle. They really make your kid feel super-cool. And it is a great way to make sure that your kid remembers to stay hydrated while on a ride. Make sure that the plastic used in the bottle is a food-grade one.
8) Bike Basket
A super cute add-on and a really helpful accessory to carry the little things like toys or your kid's knapsack. You can get wired ones or plastic ones or for other similar exciting designs. You can even look at sober colours that could appeal to the young lad. Choose a style according to what would appeal to your child.

9) Guard Kit
A guard kit is used by young skaters and bicycle riders. It includes a helmet, protective knee, elbow pads, and protective gloves that make sure your kid's palms are safe in the event of a fall. The use of the guard kit is valuable in the initial learning day and can be done away with once the child is confident.
10) Training Wheels
You can add training wheels in case the kid's bicycle does not come with it. It is a perfect addition, especially during the time the child is starting to learn to ride. You can easily remove them when your child pedals confidently without needing those extra sets of support.
11) Handle Bar Pinwheel
A pure decorative accessory but very eye-catching. This colourful pinwheel can be easily snapped onto the handle, and as the wind blows, the pinwheel will spin around.
12) Training Cones
Training cones are used for a variety of outdoor activities. These cones are very useful for a new bicycle learner. Adding cones at intervals on the riding area or your child will give them the practice to maneuver and have better control with the bicycle.

13) Handlebar Grips
Handlebar grips are a great add-on, especially if the bicycle handle is slightly worn out. Choose a colourful one that would look good and also one that would offer a good grip to the rider.
14) Bike Jersey and clothing
Wearing a bicycle jersey would make your child feel more of a professional rider than a bit of an amateur. It will get them in the cycling mood and enthusiasm as soon as they are dressed in their cycling garb.
The activity of riding a bicycle can be one of those moments which are cherished by one and all, especially when one remembers about childhood when they grow up. Adding a cool set of accessories that are great for safety and at the same are fun can definitely make those memories sweeter.
What, according to you, would be the best kid's bicycle accessory? Do let us know by adding a comment in the box below.
kide
bikes
safety
safety elements
Related Blogs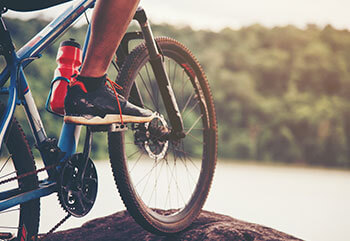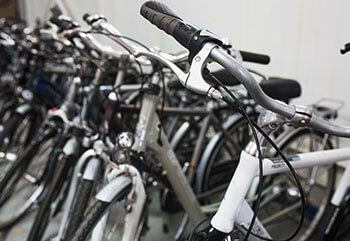 Cycling Guides
Buying Guide For Mountain Bikes
Confused as to which MTB is perfect for your mountain biking adventure? Read on to get all the information you need.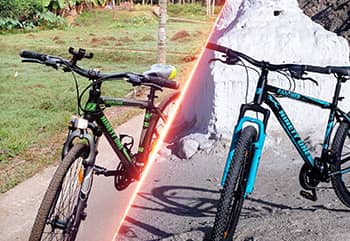 Add Review & Comment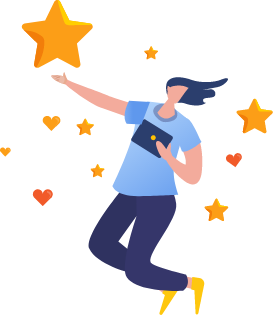 Thank you for Review