Hybrid Bikes
Determining your Perfect Fit Hybrid Bicycle


Cycling is all about having fun, getting a good workout, traveling from one point to another, and other enjoyable reasons. It is in no way a tedious activity or a source of sore muscles, aches, or injuries.

Of course, strenuous cycling at competitive levels will test your endurance, and as you push yourself beyond your, expect your body, especially your legs, to feel sore for a short while after that. But if leisure riding gives you an aching body or backaches, or similar discomforting feeling, then we bet you have a misfit bicycle
There are multiple bicycle sizes similar to clothes or shoe sizes. Each size fits a specific set of people. If you were to wear an ill-fitting shoe, larger than your foot size or even smaller, imagine the discomfort and difficulty you would experience. Similarly, when you use an ill-fitting bicycle, you may not experience immediate discomfort. But over time, it would show through aches, pains, and soreness.
Were going to share with you enough information to help you pick the best-fit hybrid bicycle so that your every ride will be enjoyable.

So it's neither one size fits all nor just your height that can determine your perfect size. Don't we wish that it would be that simple! The human body is not so simple; therefore, the fit must consider more than just the rider's height. Everyone's torso length and leg length, as well as the arm length, are not the same proportion. So while your height is indicative of the best bicycle size for you, you will have to consider more than that.
Let's start with sharing with you the components of the Hybrid bicycle that give you their size. For one thing, you will notice that Hybrid most likely will be a wheel size mentioned as 700C and, or 71 cm. 700C denotes the bike tyre size, which is an erstwhile method according to the French system. While 700 is the diameter in millimeters, the C is the width code defined from A, the narrowest, to D, the widest. So, mostly all hybrids have the exact size Bicycle tyre.

A bicycle's frame determines its size. The frame size is the length of the seat tube. This length is calculated from the center of the front chainring to the top of the tube, the point where the seat post inserts.
Frame sizes are sometimes defined from the smallest as in XS, then S, followed by M, then L, for large, and then XL for extra large. They can also be defined in inches, starting at 14 and progressing with an additional inch reaching 18. So while you keep in mind your height to identify your perfect fit, you have to measure your inseam to get more precise. After all, a tall person could have shorter legs, and a shorter person may have longer legs but a shorter torso.
Now to measure your inseam, follow these steps:
1) Stand barefooted with your back against the wall and feet positioned 6-8 inches apart
2) Place a book between your legs, spine-up.
3) Get another person to measure from the top-of-the book to the floor. This is your inseam length.
4) Now use this chart to determine your bicycle size


Another method to determine your well-fitted Hybrid bicycle is a simple calculation. The steps that you would need to follow are as mentioned here:
1) Measure your inseam length in cms
2) Multiply that value with 0.685. The output would give you the frame size in cms.
For example, your inseam length in cms is 70. Multiply this value by 0.685. You would get ~47 cm which is your frame size in cm, and 18 inches.
Additionally, do the standover test if you get the chance and can get your hand on your intended purchase. This involves standing with your feet flat, one on each side of the top tube. Ensure that you have at least a 1 to 2 space between your groin and the tube.

While your height is indicative of the bicycle's size that would be best for you, you should use the frame size and your inseam length to zero down on your exact fit. You can always fine-tune the bicycle's size by adjusting the seat height, stem, and handlebars.
We do hope you have found these details helpful in zeroing down to your perfectly fitted Hybrid bike. Wed love to hear from you kindly add your thoughts to the comments section below.
Related Blogs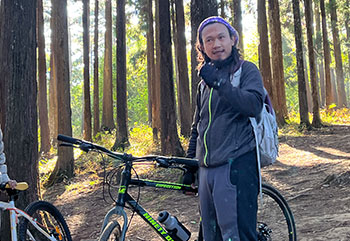 Bicycle Know-Hows
History of cycling in India
Whether it is a social symbol or a means to commute, or a tool for your adventures, we must dig deep into the cycling history in India.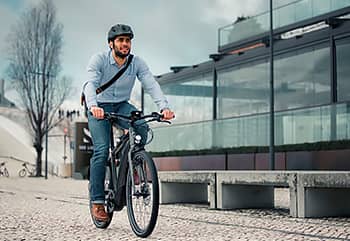 Add Review & Comment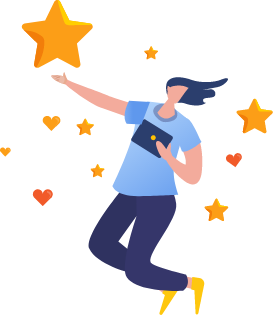 Thank you for Review